SOEP Questionnaires¶
The interview methodology of the SOEP is based on a set of pre-tested questionnaires for households and individuals. Interviewers try to obtain face-to-face interviews with all members of a given survey household aged 16 and over. Thus, there are no proxy interviews for adult household members. Additionally, one person (the "head of household") is asked to answer a household-related questionnaire covering information on housing, housing costs, and different sources of income (e.g., social transfers such as social assistance or housing allowances). This questionnaire also includes questions on children up to the age of 16 in the household, mainly concerning daycare, kindergarten, and school attendance.
The questions in the SOEP are largely identical for all participants of the survey to ensure comparability across the participants within a given year, but of course there are differences across years. There are a few exceptions to this rule, which are due to different requirements in the target population. Up to 1996, the questionnaires for the sample of foreigners (B) and the immigrant sample (D) covered additional measures of integration or information on re-migration behavior. Between 1990 and 1992, i.e., during the first years of the German reunification process, the questionnaire for the East German sample (C) also contained some additional specific variables. From 1996 to 2012, all questionnaires were uniform and completely integrated for all of the main SOEP samples. For the IAB-SOEP Migration Sample, which was launched in 2013, specific questions were added to the SOEP questionnaires. The same is true of the IAB-BAMF-SOEP Survey of Refugees, which was launched in 2016.
Another special questionnaire is used for first-time respondents since some questions do not have to be repeated every year. Each respondent is asked to fill out a biographical questionnaire covering information on the life course up to the first SOEP interview (e.g., marital history, social background, and employment biography).
Additional information not provided directly by the respondent can be obtained from the "address logs", which are stored for every year in the $PBRUTTO and $HBRUTTO files. Every address log is filled in by the interviewer even in the case of non-response, thus providing very valuable information, e.g. for attrition analysis. For researchers interested in methodological issues, these data also contain information on the fieldwork process such as the number of contacts, reasons for drop-outs, and interview mode. For households that were contacted successfully, the address logs cover the size of the household, some regional information, survey status, etc. The individual data for all household members include the relationship to the household head, survey status of the individual, and some demographic information.
Life History
The SOEP questionnaires are designed so that people in a SOEP household can be analyzed from birth to adulthood and throughout the rest of their lives. In addition to the Youth Questionnaire, which was conducted for the first time in 2000/01, a series of questionnaires for specific cohorts of children living in SOEP households have been introduced since 2003. These have been completed annually since their year of introduction by mothers (in exceptional cases by fathers) with children of the appropriate age. In 2003, a questionnaire was developed for the mothers of newborn children, Mother and Child Questionnaire (Newborns). The following instruments were developed in such a way that this starting cohort (born 2002/2003) can be followed up in their development and analyzed longitudinally. This was followed in 2005 by a questionnaire for mothers of 2-3-year-old children, Mother and Child Questionnaire (2-3-year-olds) and in 2008 by a questionnaire for 5-6-year-olds, Mother and Child Questionnaire (5-6-year-olds). In 2010, the questionnaire for 7-8-year-old children, Parents and Child Questionnaire (7-8-year-olds), completed by both mothers and fathers, was launched. In 2012, the questionnaire for 9-10-year-old children, Mother and Child Questionnaire (9-10-year-olds) was added as the last questionnaire to be answered by the mothers. This was followed by two youth instruments in which the children, aged 12, Pre-Teen Questionnaire and 14, Early Youth Questionnaire, answered questions about their own lives for the first time. These were introduced in 2014 and 2016, respectively. In 2018, the first cohort completed the entire battery of age-specific instruments and from then on, they will complete the annual questionnaires of the long-term SOEP study. Each person in a SOEP household receives the Individual Questionnaire as soon as they reach the age of 18, and the head of the household also receives the Household Questionnaire. If a respondent states in their interview that someone has died in the last year, regardless of whether the deceased person was part of a SOEP household, the Deceased Individual Questionnaire is given to the respondent providing the information.
Overview of the Questionnaires¶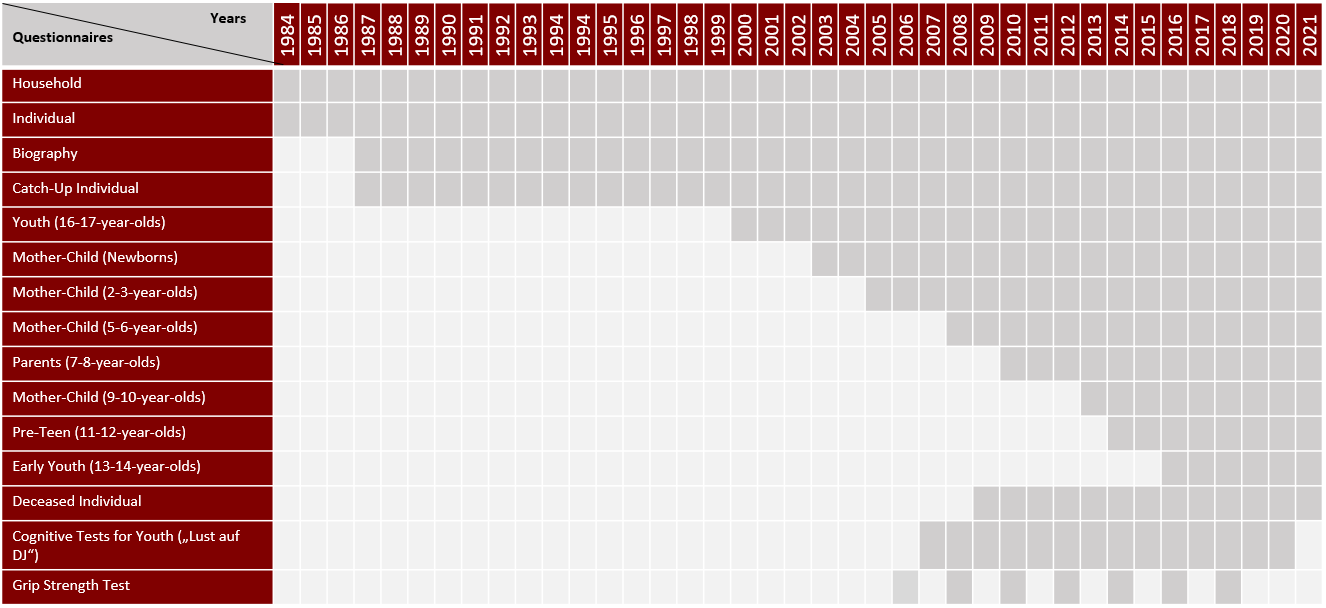 Household Questionnaire¶
The household questionnaire in its basic form has been an important part of the SOEP surveys since 1984 and has been improved and expanded continuously. The data collected and the questionnaire itself have become so complex that the original topics are no longer sufficient. Between 1984 and 2016, the number of questions more than doubled from 46 to 97. The multitude of questions offer users many options for analysis. Each year, the number of questions varies because new innovative question modules are added or because some questions are not asked every year. An overview of the modules included at different intervals can be found in the section Topics of SOEP-Core. The questions provide diverse information about the respondents' households that is stored in several hundred variables. Child-specific questions asked in the household questionnaire are found in the separate dataset $kind.
Availability: Since 1984
Respondent: Head of household
The following question modules are part of the core program of the Household Questionnaire:
Change of living situation

Neighborhood

Building type

Size and condition of dwelling

Amenities

Type of dwelling

Loans, mortgages, building-society loans

Hereditary lease interest

Modernization costs

Ownership costs

Photovoltaic and solar thermal system

Owner debt

Government-subsidized housing

Home ownership

Rental and expenses

Tenant debt

Cleaning or household assistance

Persons in need of care

Names and birth dates of children

Child's school attendance

Childcare situation

Income and expenses from renting/leasing

Loan repayment

Debt

Inheritances, gifts, winnings

Investments

Income/expenses household

Savings

Material deprevation

Number of books

Pets

Cause of moving
where applicable:
+ migration-specific modules for the IAB-SOEP Migration Sample
distinguishing repayment of loans, debt, income / expenses between Germany and foreign country
or where applicable:
+ refugee-specific modules for the IAB-BAMF-SOEP Sample of Refugees
Information on shared accomodations

Location preferences
Individual Questionnaire¶
The individual questionnaire has been a standard instrument since the beginning of the SOEP. In order to enable analysis over time, the individual questionnaire has a large number of question modules that are asked every year. There are also questions that do not have to be asked every year, as short-term changes are unlikely. In order to be able to react to current social changes, new topics are added to the individual questionnaire and repeated at intervals of more than one year.
Availability: Since 1984
Respondent: Persons over 18 years in the household
The following question modules are part of the core program of the Individual Questionnaire:
Satisfaction with various live aspects

Satisfaction with current life situation

Feelings

Flourishing

Risk aversion

Political orientation

Worrying

Life satisfaction overall

Ethnic/national origins

Vocational training

Completed level of education

Higher education

Family situation

Family changes

State of health

Disability or severe disability

Visits to the doctor

Hospital stays

Sick leave

Health insurance

Wages and collective wage agreements

Additional questions for employees

Additional questions for retirees/pensioners

Government transfers

Calendar

Time use

Second jobs

Income

Work, last 7 days

Maternity/ parental leave

Care period (Pflegezeit)

Registered unemployed

Quitting a job

Employment status

Start of job

Change of job

Job search

Current profession

Current job

Working hours

Overtime

Optimism

Religion

Organization and Association membership

Personality traits (Big Five)

Anomie

Life goals

Locus of control

Reciprocity

Trust and Fairness

Narcissism

Lonelisness

Impulsiveness and Patience

Political Goals (Ingelhart-Index)

Attitude towards refugees

Just society

Discriminatiom

Bundestag election

Social responsibility

Influence on public decisions

Friends

LGBT-Status

Child wish

Gender stereotypes

Attitudes towards gender

On-Call occupation

Commuting

Home-Office

Short-Time work payment

Work council

Payment equity

Workload

Occupational expectations

Depressive traits

Smoking and drinking

Integration indicators

Free time

Leisure activities

Donation
where applicable:
+ migration specific modules for the IAB-SOEP-Migrationsample
First Job in Germany

Job before immigration

Language proficiency before and since immigration

Partnership during immigration

Living situation since immigration

Religion and faith of parents

Satisfaction in various areas of life before and after immigration
or where applicable:
+ refugee specific modules for the IAB-BAMF-SOEP-Sample of Refugees
Legal status

Religion and faith

Language proficiency

Integration courses and government measures

Special questions for interviewers concerning language

Recognition of qualifications
Re-Interviewed
Cultural and political participation

Application for recognition

Trauma screener

OK (Judgement of different actions)

Citizenship (inkl. connection with country of origin/ Germany)

Disadvantages

Location preferences

Willingness to participate in a tandem program

Satisfaction in various areas before and after fleeing
New respondents
Obtaining help and knowledge about advice services

Assessment of current situation in country of origin

Government, democracy and woman's position
Biography Questionnaire¶
Availability: Since 1987
Dataset: $lela (CS), biol (long)
Respondent: Supplementary, one-time data from the personal questionnaire of all persons aged 18 and over in the household.
Content:
Nationality

Country of Origin

Childhood

Parents

Life course since the age of 15

Education

Occupation

Partnership/marriage

Information on children

Siblings
where applicable:
+ migration specific modules for the IAB-SOEP-Migrationsample
Travel to Germany

Stays Abroad

Citizenship

Language proficiency

Work before moving to Germany

First job in Germany

Relationship at the time of moving to Germany
or where applicable:
+ refugee-specific modules for the IAB-BAMF-SOEP Sample of Refugees
Travel to Germany

Questions concerning parents of respondent

Lodging and living situation

Language proficiency before moving to Germany
Mother and Child Instruments¶