How to Use SOEP IGEL¶
1. IGEL Workstation
IGEL refers to a computer terminal workstation for access to SOEP data:
The terminal allows data to be entered and displayed.

The IGEL is a so-called thin client, a computer with little computing power, which only provides a terminal to a server.

This thin client at the SOEP guest workstation/FDZ is from the manufacturer Igel Technology, where IGEL stands for "I ntelligente G esamtlösung in der Mikro el ektronik".
2. Account
Access to SOEP data can only be provided in compliance with high security standards to protect respondents' confidentiality and maintain their trust in the survey. The data are also provided solely for scientific research purposes, that is, they are only made available to members of the scientific community. Researchers can therefore only access SOEP data after they have signed a data distribution contract with DIW Berlin. The same rules apply to the secure guest workstations at RDC SOEP and at other secure data access points. Since IGEL terminals also provide access to small-scale regional data, users have to sign additional contracts for these data.
All IGEL users must sign a data distribution contract with the DIW Berlin: Application for a Data Distribution Contract.
3. Logging in
Turn on the computer and the following screen should appear on the monitor. (see figure 1)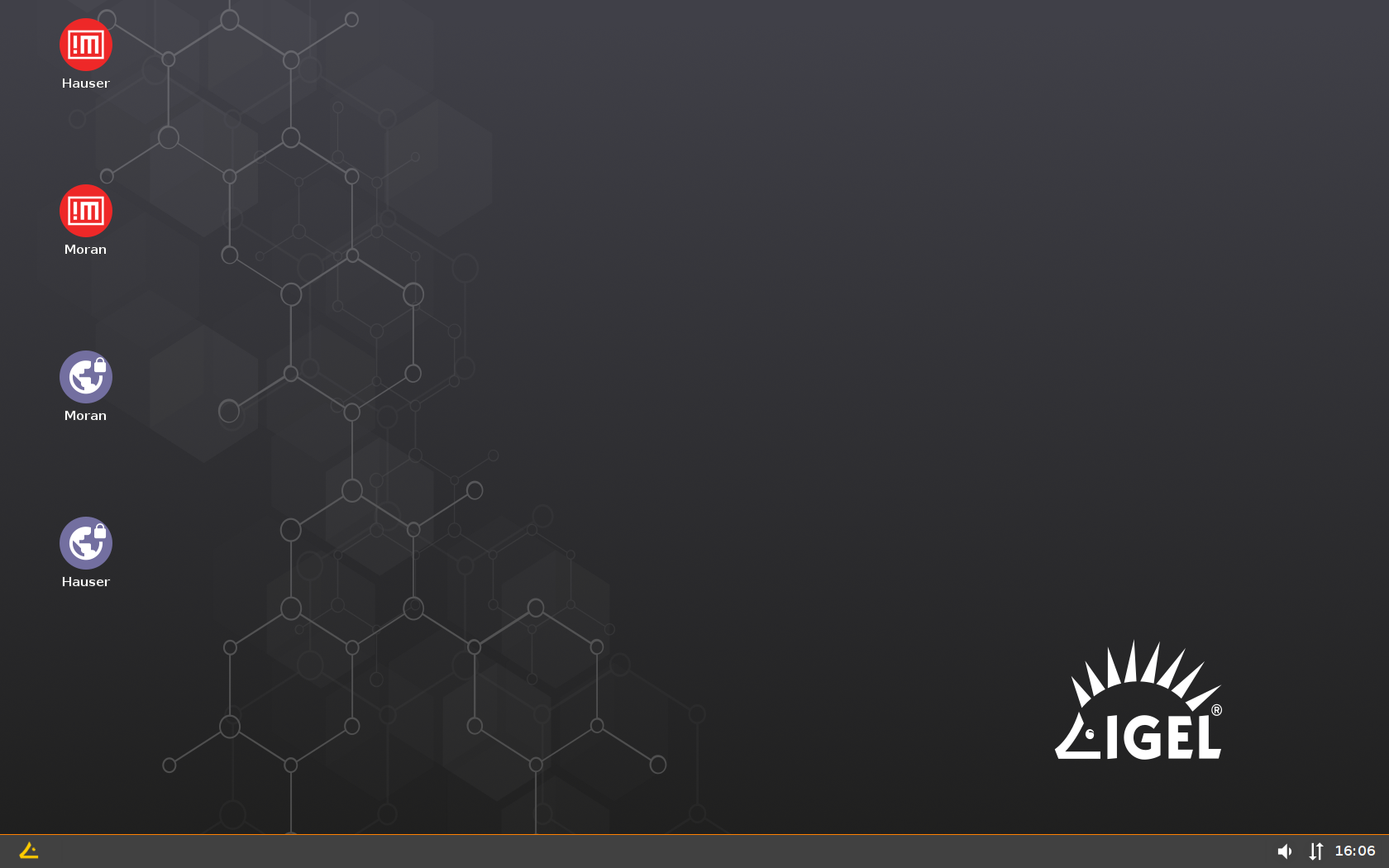 At the bottom right, you should see the icon for an existing network connection appear: Two arrows, one pointing up and one pointing down.
Click on the arrow icon to see the terminal name and the existing network connection . See figure 2.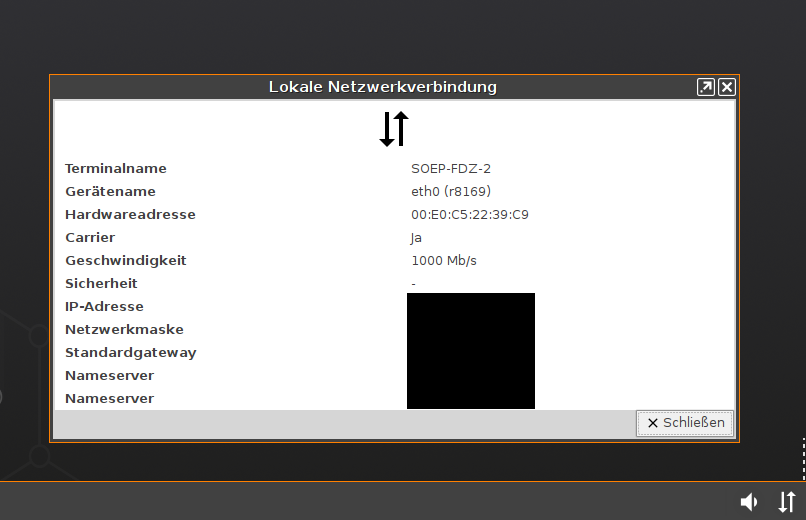 For each available server, two icons are displayed on the start screen at the top left, a red one and a blue one with the same name. See figure 3.
The following two servers are currently available:
HAUSER: Access to the SOEP survey data, including connection to small-scale regional indicators (WITHOUT coordinates).

2. MORAN: Access to the coordinates of SOEP households, but without survey data. Access is only possible from RDC SOEP guest stations at DIW Berlin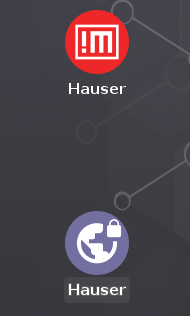 Blue Icon: To connect to one of the two servers at RDC SOEP, first establish an open VPN connection by clicking on the blue icon for the server you would like to connect to. The icon in the lower right corner should then display the existing VPN connection. By clicking once on this icon, you can see the server's IP address . See figure 4
Red Icon: Once you have established the VPN connection to the SOEP server, click once on the red icon to start your session. The server's login window should appear, see figure 5. Enter the user name and password provided to you by RDC SOEP.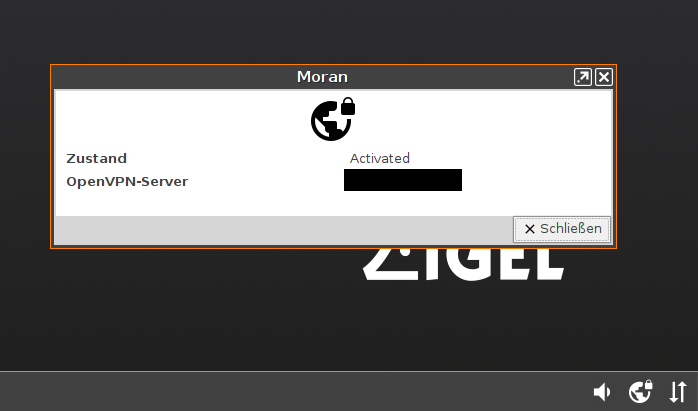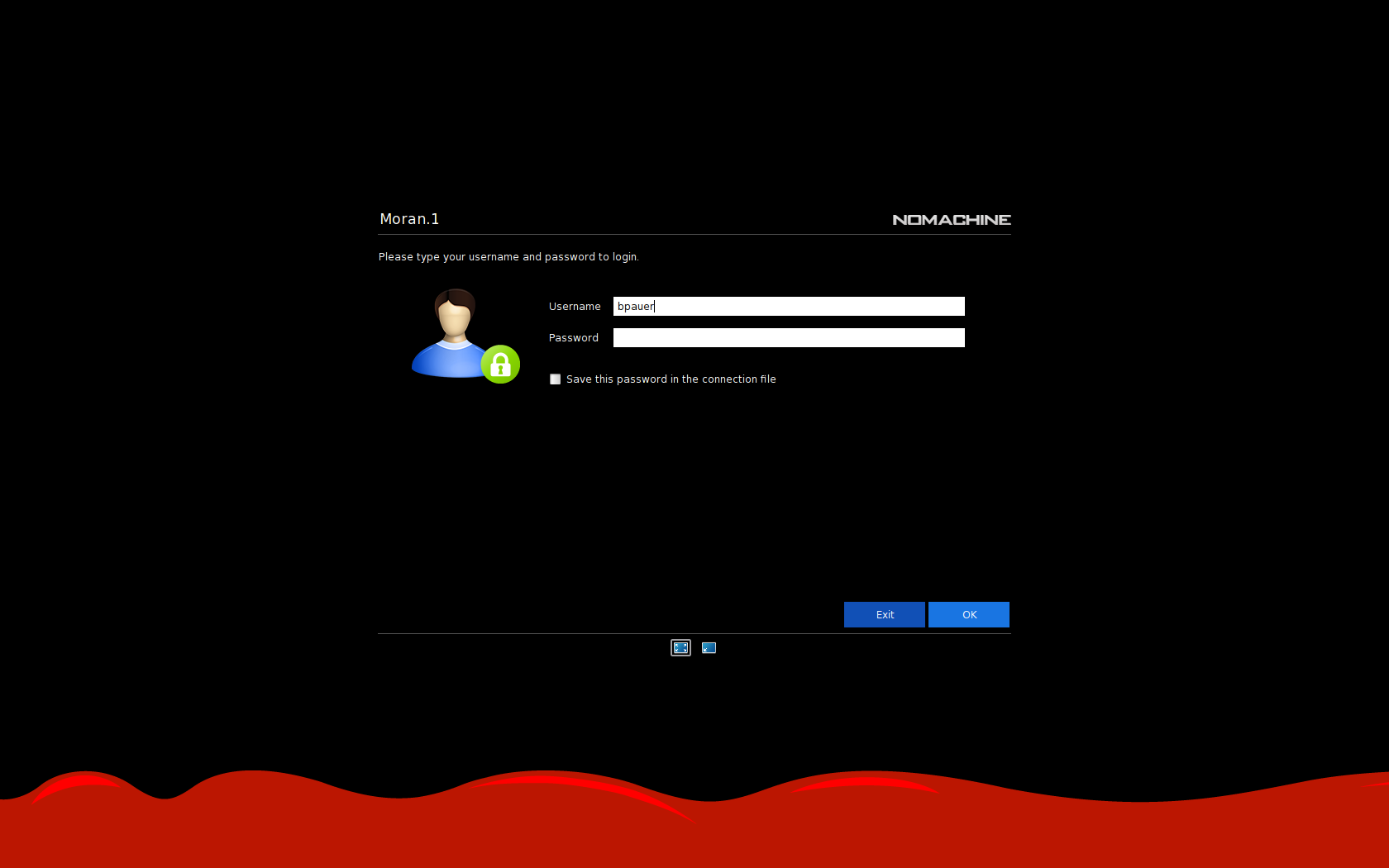 4. Working with SOEP DATA
4.1. Starting programs
After you have logged in, a blank desktop will appear with a menu bar at the top.

In general, programs can be started by clicking on "activities" and then either by clicking on the icon or by typing the name of the program into the search field.

Users should inform the RDC SOEP team in advance about any additional ados in Stata or packages in R. These will be installed after checking.

Start Stata: Unfortunately, there is no automatic start icon for Stata, so you have to do the following:

Click on activities

Enter "terminal" in the search window

Start either "Terminal" or "XTerm".

Enter the command "xstata-mp" into the terminal that has now appeared, and press the return key. Stata should now appear.

The following table shows which programs are installed and available for use on each server:
| Program | HAUSER | MORAN |
| --- | --- | --- |
| Stata | Yes | -/- |
| R/RStudio | Yes | Yes |
| QGIS | -/- | Yes |
| grass | -/- | Yes |
| PostGis | -/- | Yes |
| LibreOffice | Yes | Yes |
| Emacs | Yes | Yes |
| gnome-text-editor | Yes | Yes |
| Nautilus (File manager) | Yes | Yes |
4.2. Using SOEP data and your own data
The latest version of the SOEP data is available at the following address directory path:

HAUSER

~/soep-data/ or /import/SOEP-Regio/data/

MORAN

~/soep-data/ or /import/SOEP-GIS/data

You can store your own data and scripts in your personal home directory. ~/daten/
4.3. Logging out
Use the icon in the upper right corner

click on your username and on logout:
5. Importing Scripts or External Data
You can send these data to the RDC team before your stay. Send it to SOEP. Please use the following website:

As receiver for the data and scripts please use soepmail@diw.de.

Before you come to us, please send us the data to import early enough so that we have enough time to install it.
6. Exporting Results
Create an "export" directory in your home directory.

In it, you can store all the results that you need for your publication.

In addition, create a README file in your home directory (either as a text file or as a Word file using LibreOffice) describing what the individual files or subfolders contain. The description can be very brief and serves only to provide orientation in checking adherence to data protection provisions.

Then send an email to soepmail@diw.de and ask us to export your results.
Section author: Jan Goebel <jgoebel@diw.de>
Last change: Nov 13, 2019